Long-Term Care Quick Facts Directory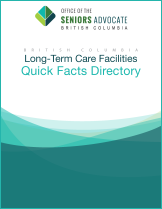 The British Columbia Long-Term Care Facilities Quick Facts Directory lists information for publicly subsidized long-term care facilities in British Columbia.
The directory contains a range of information from a variety of sources, including facilities themselves, health authorities, licensing bodies and the Canadian Institute for Health Information (CIHI). It also contains links to facility level results from our Residential Care Survey conducted between September 2016 and May 2017.
Excluded from the directory are facilities that offer specialized services to unique populations that are not part of traditional long-term care for seniors.
The Quick Facts Directory, first published in 2016, is updated each year reflecting the latest information available on these facilities. This fifth edition was published on October 10, 2019. New content in this update includes:
the number of facility inspections
the number of licensing infractions
raw food costs that reflect actual food costs rather than the funded food costs that were previously reported
Note: More detailed information on facility inspections and licensing infractions can be found on health authority websites.