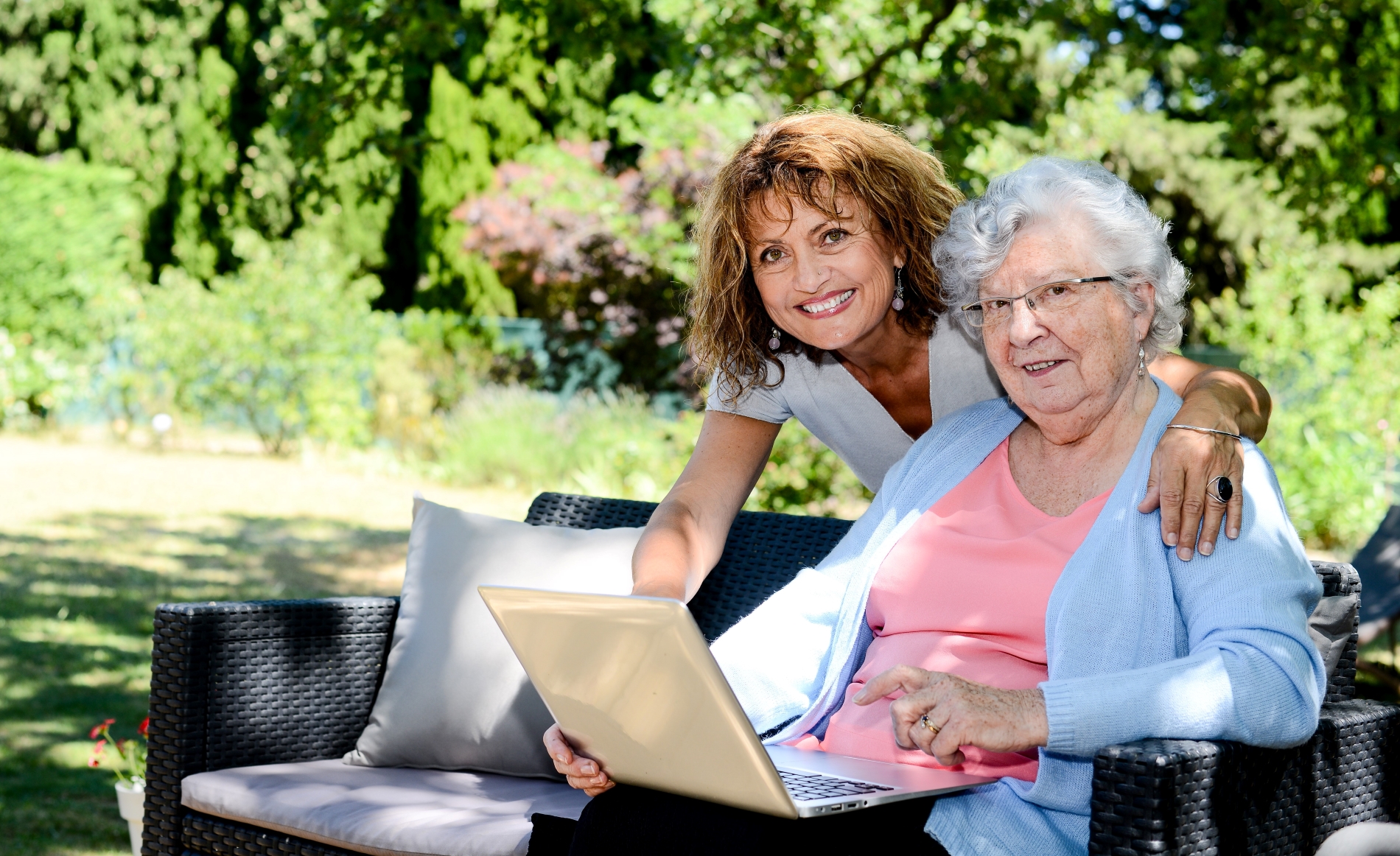 The Office of the Seniors Advocate is an independent office of the B.C. provincial government acting in the interest of seniors and their caregivers.
Information and Referral Call Line

The Office has an information and referral line that is available 24 hours a day, every day. Our senior service specialists will work with you during our office hours to provide resources and help resolve issues. Staff at bc211 will assist after hours.

Call us at 1-877-952-3181 (toll free) or 250-952-3181

Monitoring Seniors Services in B.C.

The Office monitors and analyzes seniors services and makes recommendations to government and service providers to address systemic issues in five areas: health care, housing, income support, community support and transportation.
---
Features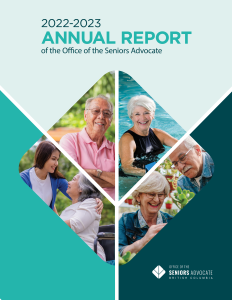 Office of the Seniors Advocate Annual Report 2022-2023
Read the OSA 2022-2023 Annual Report for highlights of our activities in the past year and details about projects that are currently underway.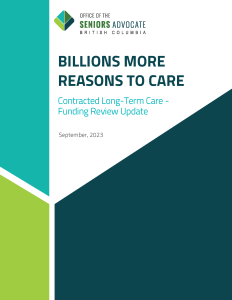 New Report – Billions More Reasons to Care
The Office of the Seniors Advocate's second review into government's funding of publicly subsidized for-profit and not-for-profit operated long-term care homes has again found spending differences impacting care for residents, many cost increases exceeding inflation, a lack of clarity on many reported expenses and inequitable funding for capital assets. The report Billions More Reasons to Care is a follow-up to a report released in early 2020 looking at the same issues.
News
September OSA Update

The September issue of our monthly newsletter is available now! The OSA Update includes news and issues that matter to B.C. seniors: Read our newsletter …

Wildfire Safety

Wildfires are spreading in B.C. and some communities are under evacuation, evacuation alert or travel restrictions. Seniors can be more vulnerable to effects of wildfires …

Heat Wave Preparedness and Response

Heat wave warnings are in effect across the province and rising temperatures may put vulnerable seniors at risk. With higher temperatures expected, it is recommended …
---
Resources
Online Information

The following links provides access to online resources that may help answer your questions.

Long-Term Care and Assisted Living Directory

Our Long-Term Care and Assisted Living Directory can help you find information about publicly funded long-term care homes and assisted living residences in B.C.

Seniors' Guides for Health Living

The BC Seniors' Guide and the BC Elders' Guide contain information to help you plan for and live a healthy lifestyle as you age.

Download the BC Seniors' Guide
(Ministry of Health)

Download the BC Elders' Guide
(First Nations Health Authority)