Home
Monitoring Seniors Services
Monitoring Seniors Services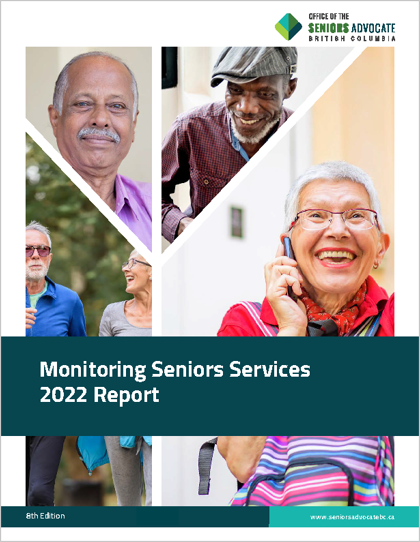 The Monitoring Seniors Services report focuses on key services in the province that fall under the Advocate's legislated mandate. It highlights where seniors' needs are being met and where improvements are most needed. Access to health care, appropriate housing, adequate transportation, enough income to meet basic needs such as food, shelter and medicines and protection from abuse and neglect are key to the health and well-being of seniors.
This report, first published in 2015, is updated each year reflecting the latest information available. Monitoring Seniors Services 2022 is the 8th edition and focuses on 2021/22 data.
Current report highlights:
The main growth in the senior's population is in the 65-74 age cohort which grew 17% compared to a 10% growth in people 85+. Overall, while people 65+ increased as a proportion of the population, people 85+ continue to be 2% of the total population.
The rate of publicly-funded long term care beds per 1,000 of population age 75+ has fallen 12%.
The proportion of long-term care residents taking antipsychotic medications without a diagnosis of psychosis increased 5% last year and is at its highest level in the past five years.
The average rent for seniors using the Shelter Assistance for Elderly Renters subsidy increased 13% while their rent subsidy increased by 3%.
There has been a consistent decrease in the average rent subsidy for SAFER clients over the past three years.
The waiting list for Seniors Subsidized Housing has increased 50%.
Calls to Designated Agencies, the Seniors Abuse and Information Line and BC 211 reporting potential abuse and neglect of seniors (including self- neglect) have all increased as have reports to RCMP and Vancouver Police regarding property crime and physical harm to people age 65 and older.
View documents: