COVID-19 Update: March 2021
Between January 13 and March 3, newly diagnosed cases of COVID-19 decreased by 98% among long-term care (LTC) residents and staff. On January 13 there were 245 new cases compared to the weeks of both February 24 and March 3 when there were only 4 new cases each week. The following chart illustrates the decrease.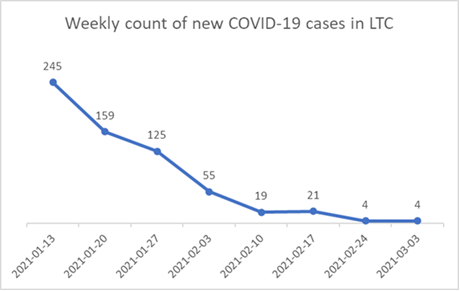 Weekly Updates
Every Thursday, the BC Centre for Disease Control publishes updates on COVID-19 outbreaks in long-term care as well as assisted living and independent living.
Click here to read the report: Weekly COVID-19 Long Term Care, Assisted Living & Independent Living.