B.C.'s Restart Plan
On May 25, 2021, Premier John Horgan released B.C.'s Restart: A Plan to Bring Us Back Together . This plan was developed with guidance from the BC Centre for Disease Control (BCCDC) and Dr. Bonnie Henry, B.C.'s Provincial Health Officer. Implemented on May 25, progression through the steps will depend on the number of adults vaccinated, COVID-19 cases counts, hospitalizations and deaths, and the number of clusters and outbreaks.
News release
Media presentation
Four-step restart plan
Provincial Health Officer Orders
Provincial restrictions remain in place to help stop the spread of COVID-19. Provincial restrictions are made by the Provincial Health Officer under the Public Health Act and others are made under the Emergency Program Act (EPA). The EPA can be extended for periods up to 14 days at a time and is currently set to expire on June 8, 2021. Under the EPA, travel restrictions remain in place until June 15.
Provincial Health Officer's Orders
Guidance on Restrictions
Travel Restrictions
---
COVID-19 in Long-Term Care
Between January 13 and May 26, newly diagnosed cases of COVID-19 decreased 88% among long-term care residents and staff. On January 13 there were 245 new cases compared to 29 new cases in the week ending May 26. However, in the last four weeks there were 74 new cases compared to 31 new cases in the four weeks prior.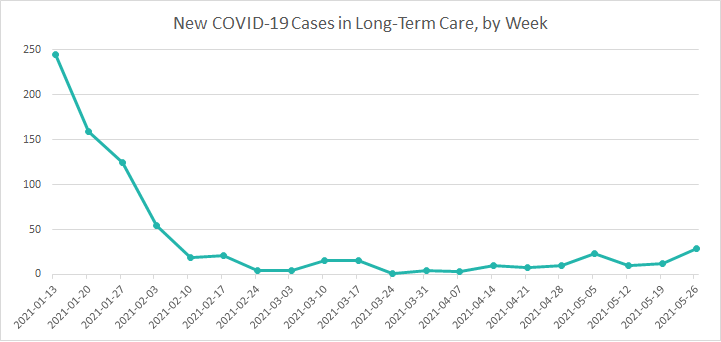 Every Thursday, the B.C. Centre for Disease Control (BCCDC) publishes updates on COVID-19 outbreaks in long-term care, assisted living and independent living.
Weekly COVID-19 Outbreak Report – May 27, 2021
Weekly COVID-19 Outbreak Report – May 20, 2021
Weekly COVID-19 Outbreak Report – May 13, 2021
Weekly COVID-19 Outbreak Report – May 6, 2021
---
COVID-19 Statistics
The BCCDC provides the latest data on COVID-19 in British Columbia, including a dashboard that summarizes COVID-19 information by health region and the entire province. Information includes cases, hospitalizations, critical care admissions, recoveries, testing, deaths and vaccination administration.
BC COVID-19 Data
BC COVID-19 Dashboard
The Government of Canada provides summary information of COVID-19 cases across Canada and over time. The data provides an overview of hospitalizations and deaths, testing, variants of concern and exposures.