Every Voice Counts: Provincial Residential Care Survey Results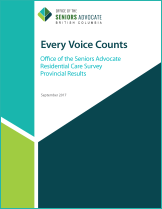 Seniors Advocate Isobel Mackenzie today released results of the Office of the Seniors Advocate's landmark survey of people living in B.C.'s residential care facilities.
This is the most extensive survey of its kind ever conducted in Canada, targeting over 22,000 individuals in 292 residential care facilities.
"This project was a monumental undertaking and I am so very grateful to all of those who supported our efforts to ensure the voices of such an important part of our population in the province are heard," said Mackenzie, adding the survey relied on the assistance of over 800 trained volunteers who donated 25,000 hours of their time to conduct in-person interviews with seniors. Residents' most frequent visitors, usually a family member, were also mailed surveys.
Key positive responses from the survey include:
50% of residents rated the overall quality of the care home as very good or excellent with 83% of residents believing the staff know what they are doing
88% of family members report being involved in decisions about the care of their loved one
80% of residents indicate they get the services they need
65% of family members rated the facility 8 or higher when 10 was the highest possible score
88% feel safe in the care home
86% of residents feel staff treat them with respect
88% of family members or most frequent visitors report that facility staff addresses their concerns always or most of the time
Key areas where residents and families said improvements are needed include:
62% of residents say they do not get to bathe or shower as often as they want
One in four residents say they sometimes, rarely or never get help to the toilet when needed and 25% of residents report staff try to relieve physical discomfort sometimes, rarely or never
More than one-third of residents report they are not consistently getting the help they need at mealtimes
Almost 46% of residents report there is no one living in the facility that they consider a close friend and 45% report there is no one for them to do things with
Less than half (46%) of residents say staff regularly make time for friendly conversation
49% of residents only sometimes, rarely or never have the same care aide on most weekdays
4 out of 10 residents living in residential care do not want to be there
Only 57% of residents report that the care facility regularly feels like home
The Seniors Advocate has made a number of recommendations on the basis of the findings from this survey, including:
Increase flexibility around when and how care, services and activities are delivered
Foster greater engagement with family members
Examine opportunities to improve the meal time experience
"This report is not the "voice" but the "voices" of residential care as the diversity of opinions is apparent in the results. Together, these voices are telling us that our residential care system has some good aspects—even very good for some—but, taken as a whole, we need to do better and, in some cases, much better. You will read in the report of residents who are waiting too long to get the help they need, who are frustrated by the rigidity of fixed schedules and who want to have more to do and people they can talk to," said Mackenzie.
Read News Release
Read Full Report (Provincial Results)
Read Full Report (Health Authority Results)
View video about our volunteers
Audio transcript of teleconference
View video of the presentation