Staying Apart to Stay Safe: The Impact of Visit Restrictions on Long-Term Care and Assisted Living Survey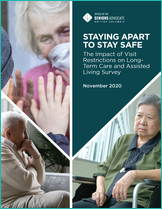 In this report, Seniors Advocate Isobel Mackenzie shares findings of a five-week survey about the impact of COVID-19 related visitor restrictions at long-term care and assisted living homes. The survey, answered by residents, their family members and the general public, had over 13,000 valid responses.
Learn more about survey participant responses and the Seniors Advocate's recommendations using the links below.
Report Summary
Since being established in 2014, the Office of the Seniors Advocate has received more calls and emails about COVID-19 related visit restrictions to long-term care and assisted living homes than any other issue.
In response, the Seniors Advocate Isobel Mackenzie launched a five-week survey at the end of August 2020 to learn more. Over 15,000 people participated, producing over 13,000 valid responses from residents, resident's family members and friends, and the general public.
Based on what she heard, the Seniors Advocate learned residents and their families are supportive of COVID-19 prevention measures but need longer and more frequent visits:
Before the pandemic, 55% of families were visiting long-term care and assisted living residents for an hour or more several times per week and even daily;
Prior to COVID-19, the majority of visitors were performing essential care for residents, such as personal care, grooming, assistance with feeding and mobilization;
Most family members were not aware of the possibility of essential visits during the first four months of visit restrictions, and almost half of the people who did apply for an essential visit were refused;
Under the current visitation policy, the majority of visits are only once a week or less, and half the visits in long-term care are 30 minutes or less;
30% of current visits are outside only;
Currently, 65% of visits are observed by staff for some or all of the time;
Only 21% of visits are in the privacy of the resident's room (75% of long-term care residents and almost 100% of assisted living residents live in private rooms);
70% of visitors are not allowed to touch their loved one;
Most visitors are washing their hands, wearing a mask, having their temperature checked, and answering health questions prior to each visit; and
Most family members and residents support some visit restrictions during the pandemic, although they believe visits should be more frequent and that at least one more visitor for each resident should be permitted.
Read News Release
Read the Report
Read the Participant Survey Responses